While Microsoft is working on the next generation of the Windows operating system, with the expected Threshold update, a report indicates the company has for the first time seen a fall in the market share of its Windows 8.1 platform, since its launch more than 9 months ago in October.
According to the latest figures (July 2014) released by Netmarketshare (via Thenextweb), the Windows 8.1's market share dipped 0.05 percent – from 6.61 percent to 6.56 percent, while the combined Windows 8.1 and Windows 8 loss last month was 0.06 percent – from 12.54 percent in June to 12.48 percent in July.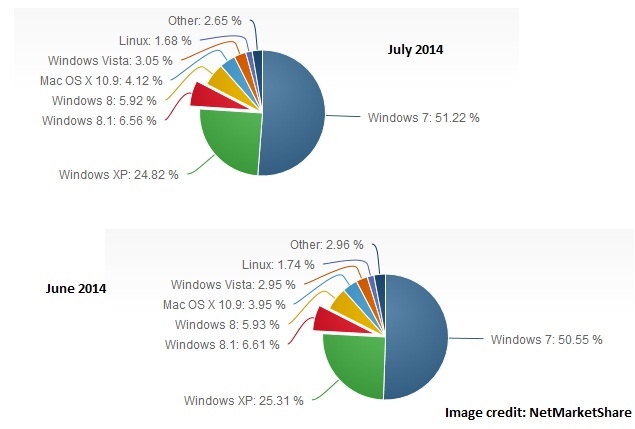 Windows 8 market share has been constantly dipping since last November, after the release of the Windows 8.1 update. It dropped 0.01 percent last month, sliding from 5.93 percent (in June) to 5.92 percent. The market share for Windows 8 was 6.29 percent in May. But for Windows 7, the company managed to get an additional 0.67 percent share, up from 50.55 percent in June to 51.22 percent in July. Also, Windows Vista has seen increase in its market shares very slightly by 0.10 percent, up from 2.95 percent to 3.05 percent.
In June, Windows XP saw a marginal and surprising increase in its market share up from 25.25 percent to 25.31 percent. Last month however, the market share for Windows XP dipped further, finally going below 25 percent (24.82 percent).
Notably, the company had officially discontinued support for Windows XP earlier this year in April.
All Windows versions collectively gained market share in July, going up 0.15 percent from 91.53 percent in June, to 91.68 percent in July, while OS X market share fell 0.09 percent to 4.12 percent, and Linux slipped 0.06 percent to hit 1.68 percent.